Other Sites You May Find Interesting
Here are some other Crowley Web Pages
Mr. Crowley's Cul-de-sac of Doom - John F. Crowley's hearty handclasp as you swerve off the "Information Superhighway". Interested in The Beatles' guitars? This is the place to look.
Brian Crowley - Member of the European Parliament.
Ginni Swanton's web site. Ginni's site features the fruit of genealogical research into her roots, which include a Crowley connection. She also carries an extensive collection of links to other sites of interest.
James L. Crowley - a Professor at the Institut National Polytechnique de Grenoble.
Jimmy Crowley - an Irish traditional folk singer and musician from fair Cork City in the Republic of Ireland.
Chrissy Crowley - An Irish fiddler, who delighted us at the 2007 gathering.
These commercial sites also link to us. Please visit them.

All Things Irish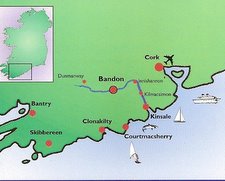 Bandon Genealogy